Myerstown Water Authority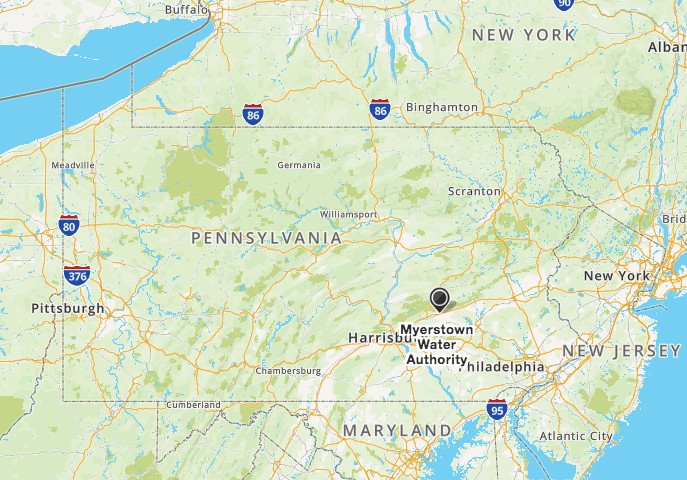 ATTENTION:
Hydrant Flushing will begin May 15, 2023 and will continue until completed.

Flushing will start at 8:00 am each morning.
The Myerstown Water Authority was chartered by the Borough of Myerstown in 1948. Over the years the Authority has proceeded with a variety of improvements to the water system including water storage facilities, new sources of water supply and distribution system improvements.
The Water Authority operates wells, as numbered, 3, 5 & 6 which pump water into the water treatment facility located on Stracks Dam Road. Each well is capable of producing approximately 400 gallons per minute. A separate well, designed as well #8, produces 575 gallons per minutes and is located along South Cherry Street and operates separately from the treatment facility.
The Treatment facility is currently permitted to process 1,120 GPM. This facility went online in 1997. As the water is pumped into the treatment facility from wells 3, 5 & 6, it is injected with small quantities of chemical to adjust the pH of the water. The filtered water is discharged to a 100,000-gallon storage tank located under the treatment room floor of the treatment facility. From this tank, finished water is pumped by one or more pumps into the transmission main which connects the treatment facility with the water distribution system and the Authority's 1,000,000-gallon elevated reservoir (water tower), which is located on College Street (RT 501).
The elevated reservoir, or the Water Tower as some of us call it, was constructed in the Fall of 1960. Regular maintenance is performed on the tower every year, and every few years the Tank gets a new coat of paint and the inside of the tank is examined to make sure integrity is in tact.
The Myerstown Water Authority has also constructed two booster pump stations. The Locust Street Pump Station located on RT 645 north of town and the Washington Street Pump Station located on West Washington Ave west of town. These booster pump stations provide increased water flow and pressure to higher elevations of the water distribution system and provides the ability to serve additional customers in the future.
The Authority also supplies fire hydrants to the communities of Myerstown and Jackson. These hydrants are flushed once a year. Watch for advertisements in the merchandiser telling dates and times of flushing and look on this site for the dates and times.
The water system currently has 2409 water customers.
The Authority supplies high quality water to residents in the Borough of Myerstown and Jackson Township.
Billing Clerk - 717-866-6483
Plant - 717-866-9301